Heli H3 Series 1-2.5T Lithium Ion 4 Wheel Electric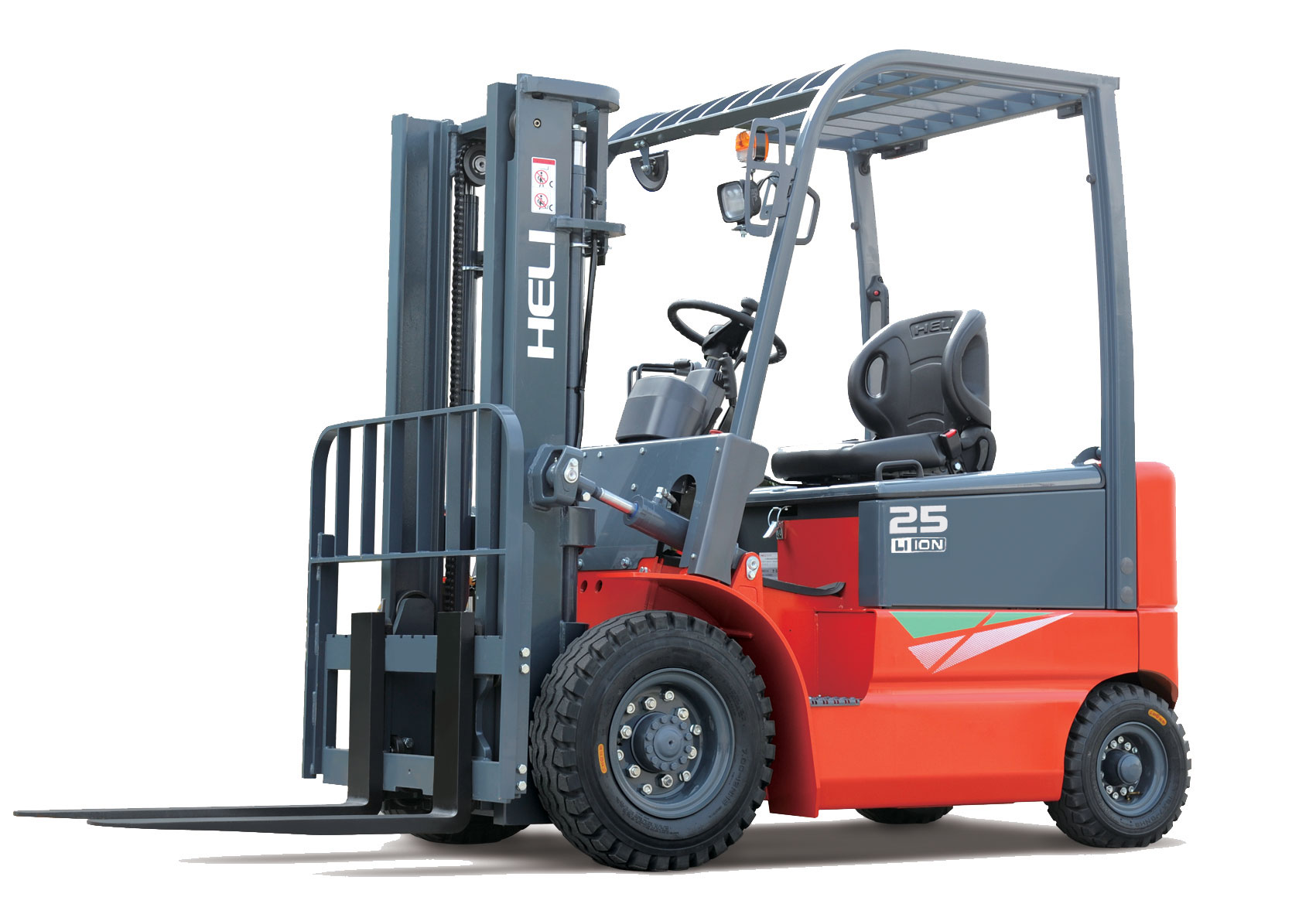 Heli H3 Series 1-2.5T Features:
Load Capacities ranging from 1-2.5T

2 or 3 stage various mast heights for custom needs.

Brand new machine

Tilt function available

Fork positioner available

Side-shift Function available

Overhead guard

Solid or pneumatic tires

12 Month Warranty
Environment Friendliness
Zero-emission. Low-noise.  Free of heavy metals, no corrosion and no acid mist volatilization.
Maintenance Free
No unnecessary fluid adding and dust proofing.  Daily maintenance-free. Manual maintenance free.
Long Service Life
Over 75% capacity reserved after 4000 shifts operation.
Longer service life than the lead-acid battery in equal working condition.
Five (5) years or ten thousand hours quality guarantee for high performance.
High Efficiency and Energy Saving
Two-hour charging time that meets 6 to 8 hours working demand.  High-energy density.
It has a lower than 1% per month self-discharging rate and a 95% energy conversion rate.
Superior charging and discharging performance. Flexible to charge and easy to operate with no impact on battery life.  Unnecessary to change the battery.  Cost-saving.
Suitable for working in both high and low environment
Lithium battery is better than lead-acid battery when working between -25℃and 55℃.
High safety
According to the characteristics of industrial vehicles, it achieves safety protection design which includes lithium battery materials, battery core type, pack technique and system power management.
Multiple node safety closed-circuit protection. Truck real-time closed-circuit protection in variable conditions.
Has lock affirming function during charging avoiding.  Hot connecting and disconnecting operation effectively.
It has a system emergency button to disconnect the truck control system and BMS power quickly, ensuring truck safety.

Call us for enquiry at (07) 5358 0646 or submit the Contact form with your details.
The Latest H3 Series Of Heli Forklifts
The latest iteration of Heli Forklifts, The H3 Series are years of innovation, testing and continued development to bring the best product yet!
The H3 Series features :
Less Vibration
Quieter Operation
Better Visibility
Bigger Workspace
Improved load capacity
Should you have any enquiries or need to further discuss your options, feel free to call us any time on (07) 5358 0646 or contact us below.
Forklift Sale Finance Options
Never worry about getting the machine you need for your warehousing activities. North Coast Forktrucks offers a variety of finance options to help you get the suitable machine for you.  
Choose what finance option is best for you:
Forklift Rental

Lease Forklift

Rent to Own

Purchase Outright
You can apply these terms to both brand new forklifts and used forklifts.
For more details on our Finance Options, click here.
We also offer Forklift Hire 
North Coast Forktrucks offers daily forklift hire and forklift hire with a driver (wet hire) in Brisbane, Gold Coast, Sunshine Coast and Caloundra.
We even supply machines and equipment for container unpacking which includes:
· Pallet Jacks
· IC engine trucks
· All-terrain Masted forklifts, and
· Telehandlers.
Do not hesitate to contact us to discuss your requirements to tailor a price that suits your needs.