Heli G2 Series 1.5T- 2T AC Electric Forklift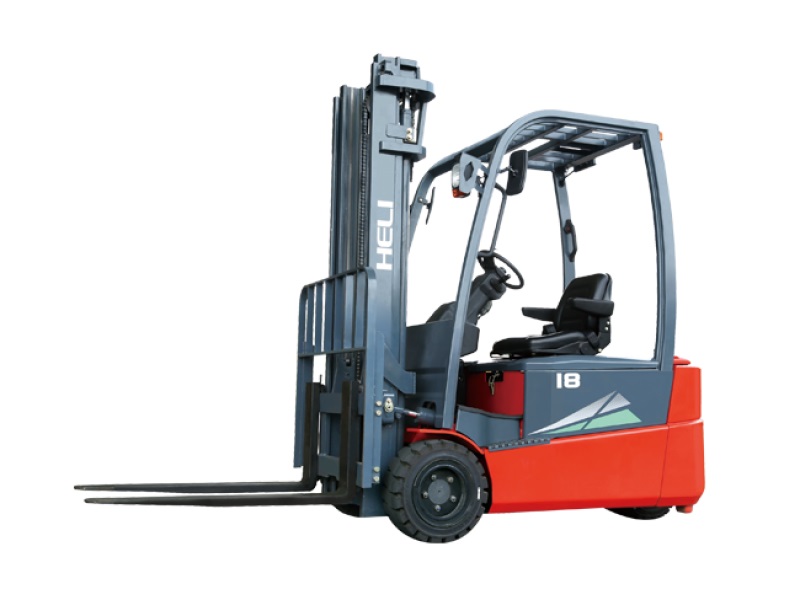 Heli G2 Series 1.5T- 2T AC Electric Forklift Features:
Load Capacities ranging from 1.5 to 2T 

2 or 3 Stage container mast from 3300mm to 6500mm

Brand new

Counterbalanced forklift

Tilt  and

Side-shift Function 

Overhead guard

Driving comfort and safety

Battery capacities up to 720

3 wheel , solid or pneumatic tyres

12 Month Warranty
Comfortable
Magnetic brake on driving axle, the truck can automatically parking in slope or flat.
The rear handle with horn function contributes to its stable sitting pose when travelling backward and driving comfort and safety.
Automobile type direction switch effectively improve the driving comfort level.
Sensor operated power steering(option), more comfortable.  Side battery as an option, easy replacement.
Finger switch as an option, more speedy operation.
Improved driver's view
A newly designed wide-view mast with unique chains effectively enlarges the operator's view.
It has a prominent arc shape overhead guard and grid tray with the proper angle to increase the operator's upward view.
Working efficiency
It has a small turning radius that makes steering flexible and more manageable.
The truck has fast driving and lifting speed, higher working efficiency.
Guaranteed efficient as 1.5T forklift to 2T, brand new AC electric forklift.
It has a three-speed mode, high performance. Larger battery capacity for longer single shift time.
Safety
Better loading capacity at a high position.  Automatically decelerates on a curve, more intelligent and safe.
Standard configuration of warning light and drive OPS system improve whole truck's safety.
Maintainability
The cover can be disassembled easily, which contributes to quick and convenient maintenance.
Energy efficiency
With an optimized hydraulic system, the truck is more energy-efficient and has lower energy consumption.
Save more than 80% lighting energy with LED lights. Motor regenerative braking can recycle more electric energy.
Call us for enquiry at (07) 5358 0646 or submit the Contact form with your details.
The Latest G2 Series Of Heli Forklifts
The latest iteration of Heli Forklifts, the G2 Series are years of innovation, testing and continued development to bring the best product yet!
The Heli G2 Series features :
Load capacity raging from 1.5T forklift to 3.5T forklift
Human-machine optimization
Strong performance and efficiency
Environment friendly
Centralized maintenance
Reliably safe and worry-free
Should you have any enquiries or need to further discuss your options, feel free to call us any time on (07) 5358 0646 or contact us below.
Forklift Sale Finance Options
Never worry about getting the machine you need for your warehousing activities. North Coast Forktrucks offers a variety of finance options to help you get the suitable machine for you.  
Choose what finance option is best for you:
Forklift Rental

Lease Forklift

Rent to Own

Purchase Outright
You can apply these terms to both brand new forklifts and used forklifts.
For more details on our Finance Options, click here.
We also offer Forklift Hire 
North Coast Forktrucks offers daily forklift hire and forklift hire with a driver (wet hire) in Brisbane, Gold Coast, Sunshine Coast and Caloundra.
We even supply machines and equipment for container unpacking which includes:
· Pallet Jacks
· IC engine trucks
· All-terrain Masted forklifts, and
· Telehandlers.
Do not hesitate to contact us to discuss your requirements to tailor a price that suits your needs.