Heli G Series 8.5-10T Lithium Battery Forklift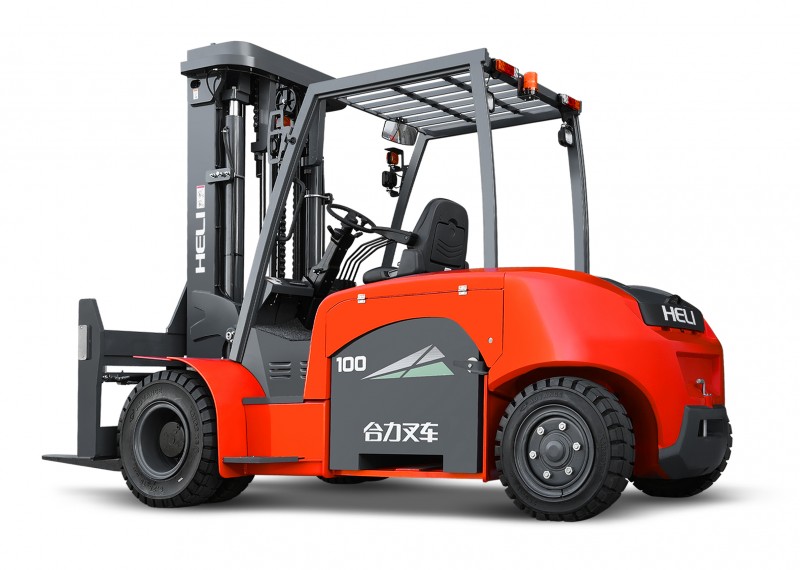 Heli G Series 8.5T-10T Lithium Battery Forklift Features:
Load Capacity ranging from 8.5T to 10T

Maximum lifting height of 3000mm

Travel speed and lifting speed performance

Four-wheel Lithium-ion battery forklift

Zero battery maintenance

Quick charging battery

Zero emissions

Drive motor control method

Pneumatic tyre type

Electronic-hydraulic brake
Modern appearance and excellent vision
The vehicle adopts a new streamlined design. The appearance is smoother and more beautiful. The super-low height of balance weight offers the driver an excellent rear vision field.
High stability
By optimizing the quality distribution of the whole vehicle, the load capacity of the mast is better than diesel trucks with the same cargo. The machine comes with larger tyres for increased traction on muddy and uneven terrain.
The counterweight has been lowered for excellent stability and the heavy loading capability of mast assembly.
High efficiency and comfortability
The design of compacted frameworks makes the vehicle much more flexible while moving freely, even in a small space.
Full-hydraulic synchronous steering system and automatic parking function ensure quick and trouble-free daily operation. Equipped with a full-suspension seat assembly, the driver felt more comfortable, and the use of a silent gear pump reduced the noise.
Convenient maintenance
The two groups of batteries are arranged from both sides, which can easily be replaced directly from each side.
The frameworks bring a charging interface, and the whole truck can be charged simultaneously for both batteries.
Come with an automatic water-in system and maintenance-free wet braking as standard instalment.
The reversal of the cooling fan removes dust, and it is free of maintenance.
Active safety
The circulating cooling system based on multi-point temperature intelligent control makes the temperature of each component at the best point. Instalment of OPS system and intelligent speed-limiter enhanced the general security.
Active braking implements the parking brake after parking when the truck is out of order. If it fails, it can decelerate the speed to park and stop actively.
Energy-saving
Energy-saving type hydraulic system. Power recovery has priority, piecewise superimposed electric-hydraulic braking.
Call us for enquiry at (07) 5358 0646 or submit the Contact form with your details.
The Latest G Series Of Heli Forklifts
The latest iteration of Heli Forklifts, the G Series are years of innovation, testing and continued development to bring the best product yet!
The Heli G Series features :
Higher load capacity
Environment friendly
Stability and efficiency
Zero emission
Active safety
Should you have any enquiries or need to further discuss your options, feel free to call us any time on (07) 5358 0646 or contact us below.
Forklift Sale Finance Options
Never worry about getting the machine you need for your warehousing activities. North Coast Forktrucks offers a variety of finance options to help you get the suitable machine for you.  
Choose what finance option is best for you:
Forklift Rental

Lease Forklift

Rent to Own

Purchase Outright
You can apply these terms to both brand new forklifts and used forklifts.
For more details on our Finance Options, click here.
We also offer Forklift Hire 
North Coast Forktrucks offers daily forklift hire and forklift hire with a driver (wet hire) in Brisbane, Gold Coast, Sunshine Coast and Caloundra.
We even supply machines and equipment for container unpacking which includes:
· Pallet Jacks
· IC engine trucks
· All-terrain Masted forklifts, and
· Telehandlers.
Do not hesitate to contact us to discuss your requirements to tailor a price that suits your needs.