Forklift Rental Caloundra is here to meet your forklift needs!
Forklift Rental Caloundra by North Coast Fork Trucks offers affordable forklift rental for new and used forklifts to help you get the right equipment for your warehousing and lifting jobs. Choose from a range of pallet jacks, container forklifts, reach stackers, terrain forklifts, and more.
We only provide the leading brands like Heli, Hyster, Yale and Caterpillar forklifts. These brands are designed for durability and quality to carry out the job. Select brand new or used forklift to hire whether electric, semi-electric, or manual forklift.
Need a forklift driver?
We offer forklift wet hire. Hire forklift with a driver so you do not need to worry on forklift safety operations.
Heli Empty Container 25T Stacker
Heli's latest forklift innovation, the 25T Stacker is specially designed for stacking empty containers up to 19 meters high. This brand-new container stacker features an air-conditioned cab for the user's comfort. Buying this forklift stacker is mostly considered for its ease of use, reliable performance, and affordability. 
We also carry a variety of Heli stackers and pallet jacks to suit your need. 
For more forklift options and to assist you in processing your rental or purchase contact us now.
Yale ERP030 3 Wheel Electric Forklift
High quality used Yale ERP030 has up to 1.36T lift capacity and is one of Yale's latest innovations in electric forklifts. It features sideshift and solid wheels. It has a brand new battery and low hours.
We also carry other Yale quality used forklift :
Also available for rental or sale:  Crown Forklift – CG70S-5 – 7T LPG
For more forklift options and to assist you in processing your rental or purchase contact us now.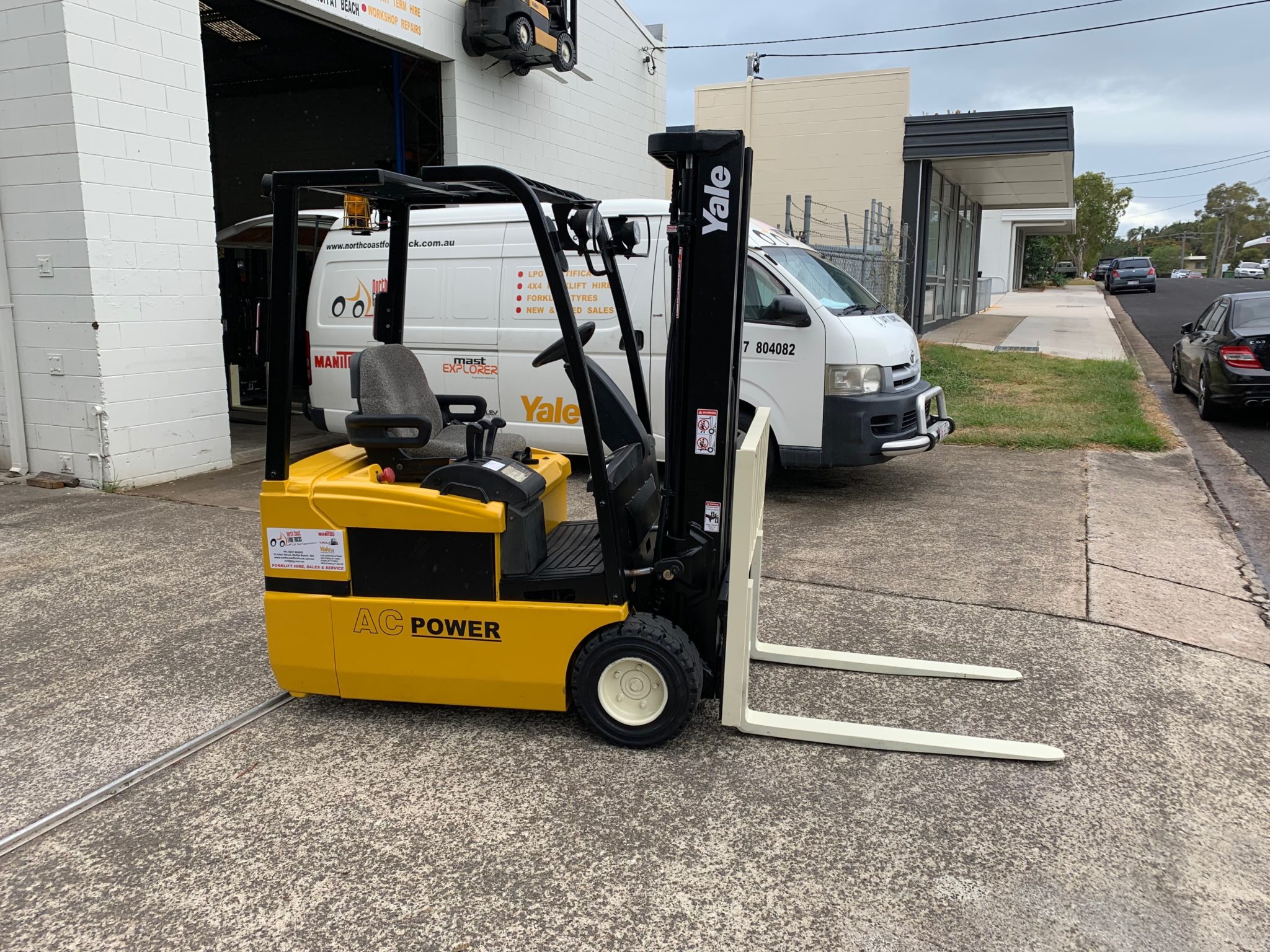 North Coast Fork Trucks Sunshine Coast is also open to serve you !
We are here to assist you in choosing the best forklift for your every need.
You can choose various rental forklift available or buy affordable new equipment.
We also offer forklift rental or forklift hire in Brisbane and Gold Coast.
Address :
13 Allen St, Moffat Beach,
4551, QLD, Australia.
Phone : (07) 5358 0646
Email : sales@ncfork.com.au
Business Hours: Monday to Friday 7am – 5pm
Saturday – Sunday by appointment
ABN: 79 005 409 019